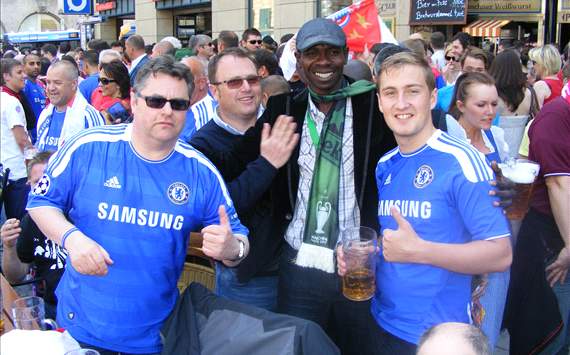 As the opportunity to win tickets to this year's UCL final begins, one of last year's winners shares his experience at the worlds' biggest club competition game in Germany
On a quiet Champions League night in 2012, Abiodun Adewole sat down to watch a knockout game at a local pub near his home in Lagos while cradling a bottle of cold Heineken.
He was spotted by a Heineken promotion team who handed him an invitation to the Heineken Champions Planet in Victoria Island to watch a Uefa Champions League match screening alongside other enthusiastic Heineken drinkers.
Adewole arrived the Heineken Champions Planet to find a world class, convivial atmosphere where he was received like a star as he watched the matches.
At half time there was a lucky dip and his voucher was one of five winners chosen to attend the final of the Champions League in Munich, Germany that year. It was a coincidence Adewole was in the house just on the night of the draw, since all Heineken Champions Planet visitors of the entire season are included in this draw.
"Heineken changed my life," Adewole declared. "I had no idea of what was going on but I suddenly won this trip of a lifetime.
"Now people see me around my neighbourhood and treat me like a star. I'm respected around my neighbourhood now," he said.
Adewole and his fellow winners had a beautiful trip to Munich where they not only saw the Champions League Final but were given a tour of the city and shown historic places.
"We met with fans from all over the world and we were like ambassadors for Nigeria because we had to talk about our country with the other fans. I also met Harry Redknapp," he said.
"It was a grand experience for me, something I will always cherish."
For this year's final match that will take place at the Wembley Stadium in London, Heineken Nigeria will take another set of five lucky fans to see the showpiece event of the world's biggest club competition.
Noteworthy is the fact that it's only the Nigerian market that takes five fans to the event, many other countries usually take just one consumer, since tickets are scarce.
However, instead of a lucky dip, this year the fans will be involved in a more competitive Race to the Final event that will take place on Saturday April 13 from the National Theatre, Iganmu.
This race involves finding five clues scattered all around the city of Lagos as it is intended to test the inventiveness of fans. The race will be highly interactive and the contestants can be followed on
Twitter:
@Heineken_NG
, #HeinekenRTF.
"The journey to the final is as exciting as the final itself, we are very excited about this event" said Jacqueline van Faassen, senior brand manager of Heineken Nigeria.
Registration for the race closed on Thursday April 11 on the Heineken website with an enthusiastic number of fans entering for the opportunity to live their dream.
"It's the most amazing experience," said Adewole. "I wish this year's participants all the best. It's something to look forward to."
Whats your Opinion on this? Share with us what you feel by using the comment box below.