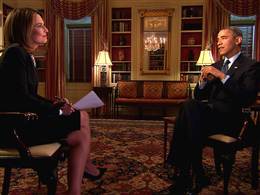 US President Obama expressed hopes for a diplomatic solution to the tensions on the Korean peninsula, saying that he does not believe North Korea has the capacity to load a nuclear warhead onto a long-range missile.
The comments came during an interview with
NBC News
broadcast on April 16 prior to the April 15 Boston Marathon bombings and prior to the statement by North Korea's Ministry of Foreign Affairs spokesperson. Regarding North Korea's nuclear capabilities, Obama said "Based on our current intelligence assessments we do not think that they have that capacity. But we have to make sure that we are dealing with every contingency out there. That's why I repositioned missile defense systems."
President Obama hinted that if North Korea ends its provocative actions, dialogue could begin. "All of us would anticipate that North Korea will probably make more provocative moves over the next several weeks," he said. "But our hope is, is that we can contain it and that we can move into a different phase in which they try to work through diplomatically some of these issues, so that they can get back on a path where they're actually feeding their people." It has been analyzed that at the end of this month when the annual South Korea-US Foal Eagle combined military exercises conclude, there will be a chance to open talks. However, President Obama did not mention under what specific conditions talks could begin.
President Obama again emphasized the principle of not rewarding provocative behavior. "Since I came into office, the one thing I was clear about was, we're not going to reward this kind of provocative behavior. You don't get to bang your spoon on the table and somehow you get your way."

Whats your Opinion on this? Share with us what you feel by using the comment box below.