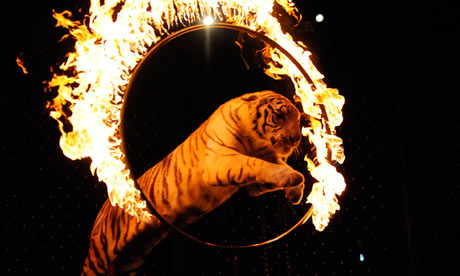 For a long time, it was said that the use of wild animals in circus should get banned in the United Kingdom. It is now that the decision has been finally taken and use of wild animals in circus shows will not be permitted.
All the credit for the same goes to more than 13,500 Care2 members, who forced the government to take such an action. It was in June 2011, that Members of Parliament carried out voting in which asked to put a ban on the use of wild animals in the circus.
Things kept on lingering and the decision has been taken. As per the decision, no wild animals will be used in circus after December 1, 2015. While explaining the reason for the delay, the agriculture minister was of the view that they wanted to give time to people involved in circus shows.
Three years can be termed as a grace period for operators so that they can switch to other businesses. The Minister continued by affirming on reason for more time, "Operators of travelling circuses a reasonable period of time to adapt their businesses and organize suitable care arrangements for their wild animals". It is expected that things will change for betterment.

Whats your Opinion on this? Kindly Share with us what you feel by using the comment box below.