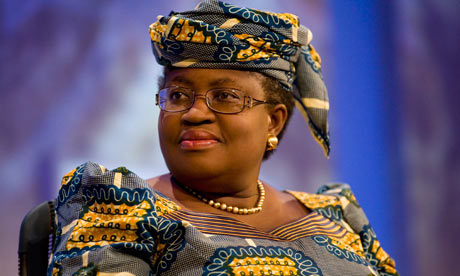 The Minister of Finance, Dr Ngozi Okonjo-Iweala, says Nigeria is the largest shareholder in the African Development Bank (AfDB) with the highest voting power of 9.2 per cent.
Okonjo-Iweala said this at the 50th Anniversary Dinner of the bank organised by its country office in Abuja on Wednesday night.
The minister also said that the Federal Government had a 1.6 billion dollars loans portfolio from the AfDB for 28 projects that cut across private and public sector activities in the country.
She explained that Nigeria had been a principal beneficiary of AfDB's assistance, having received nearly five billion dollars in net investments since the bank commenced its operation in 1972.
Okonjo-Iweala said that the country had been committed to the development course of the bank since 1986 when the country established a Nigeria Trust Fund (NTF) within the institution.
"We set up this money as a means of helping countries that were less fortunate and ourselves at the height of the oil boom of the 1970s," she said.
Talking about Nigeria economy, Okonjo-Iweala said the country maintained a strong macro-economic stance which had given her a platform within which to leverage the needed structural and sectoral reforms in key sectors.
She said that the diversification of the economy really showed off in the rebasing exercise which showed that the service sector was the leading sector of at 51 per cent.
According to her, the AfDB is putting in 400 million dollars with an equity stake, which means both loans and equity.
"The World Bank is putting in 500 million dollars, Germany 500 million, and we are still raising both debt and equity. So, by the beginning of 2015, Nigeria will have its own development bank for the first time in this country, " she said.
Okonjo-Iweala said that small and medium size enterprises, manufacturers and other businesses would be able to get resources at seven to 10 years tenor at reasonable terms of interest.
-NAN